Firm Overview
Firm Overview – Boston Defense Attorney
My Approach to Resolving Problems
In any Boston courtroom, your best defense is a strong offense.  Preparation is the key to success in any type of criminal case. Professionals, executives and high-profile defendants turn to Attorney Steven J. Topazio when they find themselves accused of a crime or when facing criminal charges.
My Law Office is a full service law firm concentrating on criminal defense trial litigation.
For more than twenty eight (28) years, I've stood up to protect the rights of my clients no matter who they were up against.  I have the rare combination of a courtroom natural with a top-flight command of the nuances of the law and the ability to produce persuasive written motions and briefs which will give you the advantage you need when facing criminal prosecution.
A Word From Attorney Steven J. Topazio
"My Boston law office is a full-service law firm concentrating on criminal defense litigation.  Professionals, executives and high-profile defendants turn to me when they find themselves facing criminal charges because they know that I believe preparation is the key to success in any type of criminal case."
"Nobody plans on being arrested or being charged or accused with committing a crime.  I am well aware of the fact that not everyone arrested is guilty as charged, or that the charges brought can be proven or established beyond a reasonable doubt in a court of law. The decisions you make early on can greatly affect the outcome of your case."
"By visiting this website, you have taken the first step to finding the help you need to fight the police, false accusations, and the Commonwealth of Massachusetts, with all its resources, so as to clear your good name. I will do everything possible to fight for you.  Don't go it alone."
One of the Best Lawyers in Boston
When you become a client, I will provide you with the type of personalized, tireless and skilled representation in criminal matters that you expect and need when you're the target of State or Federal officials.
With me as your attorney, you will have in your corner a lawyer with the experience, credentials and most importantly, the trial talents honed over two decades in the trenches of trial wars….and that gives you the edge necessary for courtroom battles. "For your defense, I will do what I've always done….never back down."
I believe that the PRESUMPTION OF INNOCENCE is the most important legal concept in the criminal justice system.  Every inch of the way, prosecutors, judges and juries need to be reminded to respect this hallmark of our system….and not just pay lip-service to it.
I will arrange to meet with you for a free initial consultation, because we know that before you pay your hard-earned money to a lawyer in a criminal case, you want to know that the lawyer will pull-out all the stops for you, keep you informed about the case on a regular basis and be sure that you and your loved ones understand the process and the choices available to you.
Creative Problem Solving
I look for creative ways to solve my clients' legal problems. This starts with creative approaches to issues involving law enforcement and prosecutors. If a case reaches the sentencing stage, I look for creative approaches to sentencing. I always try to find ways to mitigate sentencing and avoid incarceration, often by emphasizing rehabilitation.
Legal Reputation
I have an excellent reputation as a Criminal Defense lawyer in the community for my ability to analyze and evaluate a case, prepare a strong defense for trial, and/or obtain a favorable outcome for my clients.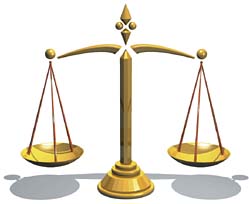 Unlike other firms, you will always meet with me, not an "office manager" or "paralegal". I am accessible to my clients at all times and I am prepared to address any of their concerns they have regarding their case. What sets me apart from my competition is that I am a skillful negotiator and able adversary in court, who aggressively pursues his clients' interests. However, I also have a reputation among law enforcement officers and prosecutors for practicing criminal law with compassion and integrity, giving me credibility and allowing me to establish important professional relationships.
Personal attention for criminal defense and negligence claims
In both criminal defense and personal injury matters, we understand that legal problems can complicate your life in ways that go far beyond absence from work or the risk of a jail term. Not too many of our clients have ever given much thought to the risk of an accident or the chance of an arrest, and either of these can create serious havoc in your life. We therefore take the time to help you understand your situation in both legal and practical terms, and give you the information and advice you need to make the best possible decisions for yourself, both to resolve the immediate problem and to protect your long term interests.
You'll find that our approach to client service in both criminal cases and personal injury emphasizes personalized attention to your specific problem. We tap into a wide range of professional skills to help you achieve your objectives: our ability to listen, accurate assessment of litigation risk, negotiation skills, investigative skills, and the capacity to work with experts whenever necessary to prove your case or support your defense. While each of these attributes can be highly effective for keeping your case out of court, our track record of success at trial indicates that they also come in handy in court.
For a free confidential consultation, contact the Boston law firm of Steven J. Topazio, Attorney at Law.