Car Accidents
Boston Car Accident Attorney – MA Auto Accident Personal Injury Lawyer
Injuries stemming from motor vehicle accidents often bring about a host of adverse effects, encompassing physical pain, emotional distress, and financial strain. Attorney Steven Topazio understands the multifaceted challenges that victims face in the aftermath of such accidents. His expertise in personal injury law allows him to provide critical assistance to those navigating these complex situations.
Attorney Topazio can help victims get the compensation they deserve by pursuing compensation for medical expenses, lost wages, and pain and suffering, thus alleviating some of the financial burdens associated with recovery.
By advocating for his clients' rights and tirelessly pursuing justice, Attorney Topazio is a trusted ally for those seeking to rebuild their lives after a motor vehicle accident's adverse effects. Call him today for a free consultation.
Protecting Clients' Rights in Massachusetts Car Accident Litigation
If you have been injured in a motor vehicle accident in Boston, on the North Shore, or in southeast Massachusetts, contact a knowledgeable personal injury lawyer at the law firm of Steven J. Topazio, Attorney at Law. We represent Boston car accident victims who need help collecting the damages they need to make up for lost income, cover medical expenses, and to ensure access to future treatment and physical rehabilitation.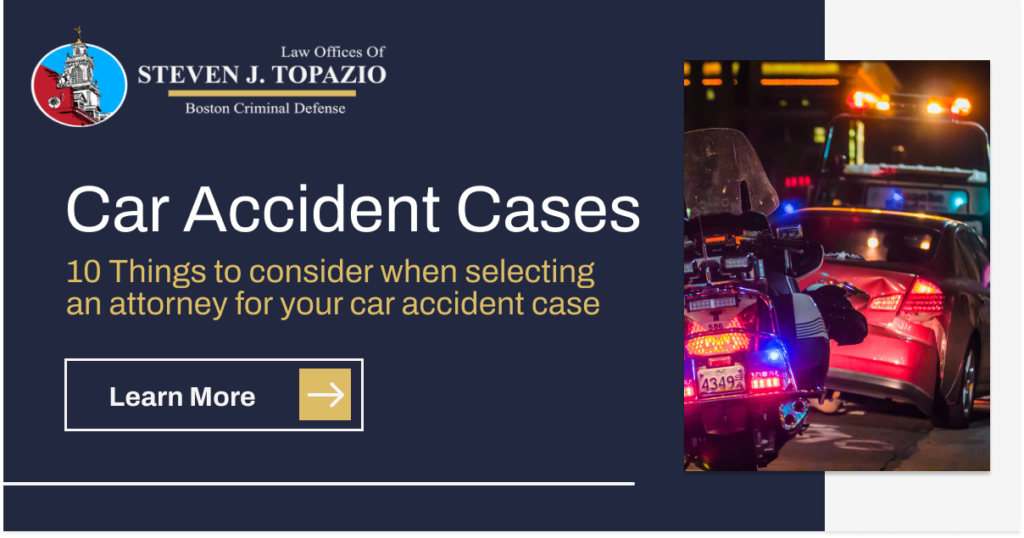 With more than 28 years of experience as a trial lawyer, Steven J. Topazio has the legal knowledge and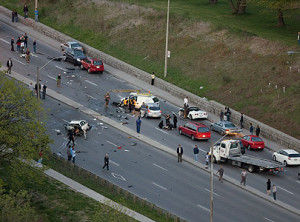 strategic sense necessary to guide you through every step of the car insurance settlement process, and to take your claim to court if negotiations fail to cover the full extent of your damages. Our law firm represents car accident victims in all kinds of highway accidents, including such auto crash scenarios as the following:
     *     Car accidents in town, on the highway, or even in parking lots
 
     *     Accidents involving motorcycles, bicycles, pedestrians or joggers
 
     *     Hit and run accidents
 
     *     Damages claims involving uninsured or underinsured drivers
 
     *     Problems with medical treatment or diagnostic tests due to your own insurer's refusal to allow them
 
     *     Commercial vehicle accidents involving trucks, taxis, airport shuttles, limos, buses, or any other professionally driven truck or van
 
Our experience with Massachusetts tort law can help you avoid problems with the physical damages threshold that you must reach before any claim for pain and suffering can be included in your damages demand. We represent car accident victims whose injuries cover the range from soft tissue trauma and fractures to such disabling injuries as spinal cord damage or traumatic brain injury. We also represent the surviving families of fatal accident victims in Massachusetts wrongful death litigation.
Boston personal injury attorney Steven Topazio's goal in every car accident case is to help you recover the full amount of damages justified by the law and the facts of your case. As a result, we take just as much care in developing and presenting the damages side of your claim as we do in establishing the other driver's liability.
For a free consultation with an experienced personal injury attorney, contact Boston Personal Injury Attorney Steven J. Topazio call him at 617-422-5803 or email by filling the contact form at the upper left side of this page to schedule a free confidential consultation.